Louis XV Walnut 1975 Baldwin 5'8" Grand Piano For Sale: $13,500 US Dollars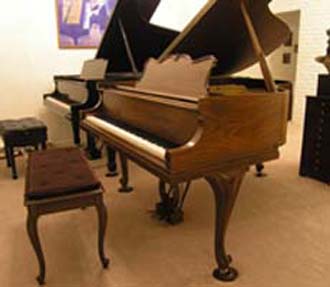 Piano's Personal History:
1975 Louis XV Walnut Baldwin 5 '8 " Grand. Serial No. 210779
This piano was inherited by the current owner directly from her grandmother who was the original owner. The owner lives out of state and couldn't take it with her when her grandmother died. She and her grandmother had a special connection over music. Her grandmother was her first piano teacher. It was special to the owner to inherit this piano and she is heartbroken she cannot keep it. She would like to see this piano go to a good home.
It is in beautiful condition. It sounds great and has a big full bass, singing midrange and clear bell-like treble. This piano has had all the recommended maintenance work
The Louis XV cabinet is no longer made today in a walnut finish like this one, so that makes this piano more rare.
Included in the price is a matching hardtop bench.
Expert Appraisal and Inspection Reports:
Market Summary for this Brand:
Baldwins and Steinways are the two top concert pianos still made in the United States today. The Louis XV cabinet style is very popular, but few are still made. It is rare today.
Market Evaluation for this Piano:
The nearest new equivalent would be a new Baldwin 227 which retails between $44,000 to 71,000.
Moving Details:
Buyer pays shipping.  The cost may vary from $150 - $300 for a local move and $950 for a cross country move. The piano is currently in Walnut Creek, CA
Transaction Details:
Piano Finders handles escrow services for all brokerage pianos, free of charge. Buyer is required to sign a Piano Purchase Offer Contract and receive a signature from a Piano Finders representative before piano will be taken off the market.
Tax Issues:
There is no tax on this piano. This is because the CA State Board of Equalization has approved our brokerage contracts between buyer and seller as non-taxable and they have taught us how to determine which transactions are taxable and which are not. Also, non-profit organizations that sell their donations, are not required to charge tax.
Warranty:
Piano is being sold in "as is" condition.
Additional Photos:
Contact Us