Kimball 41" Artist Console Piano For Sale: $1,150 US Dollars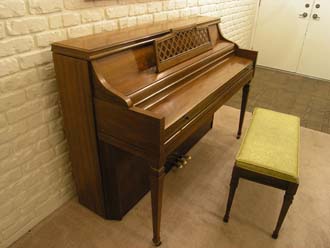 Piano's Personal History:
1973 Kimball 41" Console Piano. Medium Brown Walnut. Serial No. 862936
This is an original owner piano and kept in good condition. It was purchased new in 1973 in Walnut Creek, CA. It was recently donated to a nonprofit organization and has been tuned, voiced and regulated in March 2007 by Piano Finders. It is in beautiful condition and has very little wear on the parts.
This piano is a durable console piano, ideal for musicians and piano students who need a lot of piano in a little space.
Included in the price is a matching duet bench
Expert Appraisal and Inspection Reports:
Market Summary for this Brand:
Kimball Artist Consoles are comparable in quality and performance to Baldwin Consoles and have a good solid value of between $1,100-$1,500.
Market Evaluation for this Piano:
The nearest new equivalent would be a new Baldwin 43.5" Console which retails between $4,700 to 6,100.
Moving Details:
Buyer pays shipping.  The cost may vary from $125 - $200 for a local move. The piano is currently in Walnut Creek, CA
Transaction Details:
Piano Finders handles escrow services for all brokerage pianos, free of charge. Buyer is required to sign a Piano Purchase Offer Contract and receive a signature from a Piano Finders representative before piano will be taken off the market.
Tax Issues:
There is no tax on this piano. This is because the CA State Board of Equalization has approved our brokerage contracts between buyer and seller as non-taxable and they have taught us how to determine which transactions are taxable and which are not. Also, non-profit organizations that sell their donations, are not required to charge tax.
Warranty:
Piano is being sold in "as is" condition.
Additional Photos:
Contact Us