SOLD:Vintage Weber 5'6" Grand Piano : $5,900 US Dollars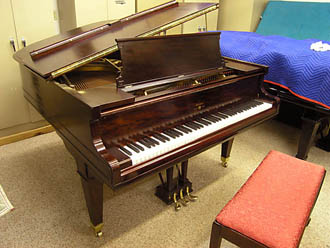 Piano's Personal History:
1910 Weber 5 '6" Grand. Serial #65425
This is a California owner piano that has been kept in good condition. It was recently donated to a nonprofit organization. It sounds great and has a big full bass, singing midrange and clear bell-like treble. The Vintage American made Weber piano was internationally renowned as a concert instrument. The pianist Paderweski did his concert tours with the Weber grand.
This piano was built to last. It has a beautiful set of original ivories in excellent condition, just reconditioned. Cabinet has a beautiful reddish brown fiddleback mahogany veneer. Hammers shanks and flanges have been replaced (some years ago) Strings have been replaced (some years ago) It has new keybushings and keyframe felts, new damper felts. It has a full sostenuto pedal. It was recently tuned, regulated and voiced by Piano Finders. Brass has been polished and clear coated. Soundboard in good condition, no cracks. Original case finish has been touched up, (still has some crazing and character marks).
Nice sound, a joy to play. It has more sustain in the tone than a 6'1" Kawai, Boston or Yamaha Grand because of its wet sand cast plate and because the construction of the rim is made from maple and other hardwoods. The Asian made pianos use a vacuum plate casting process and softer woods in their rims that cause the tone to die faster. For those who prefer the richness and warmth of a full and sustained tone, this piano is ideal.
Bench is included in the price.
Expert Appraisal and Inspection Reports:
Market Evaluation for this Piano:
Vintage Weber grands, like Vintage Steinways are considered desirable pianos, because of their superior design and quality. The nearest new equivalent would be a new Baldwin R which retails between $36,000 to 64,000. (The new Weber pianos made today are not considered to be an equivalent to the vintage Webers, because they do not have as high quality design and workmanship and are made in China instead of the United States.)
Moving Details:
Buyer pays shipping.  The cost may vary from $150 - $300 for a local move and $950 for a cross country move. The piano is currently in Walnut Creek, CA
Transaction Details:
Piano Finders handles escrow services for all brokerage pianos, free of charge. Buyer is required to sign a Piano Purchase Offer Contract and receive a signature from a Piano Finders representative before piano will be taken off the market.
Tax Issues:
There is no tax on this piano. This is because the CA State Board of Equalization has approved our brokerage contracts between buyer and seller as non-taxable and they have taught us how to determine which transactions are taxable and which are not. Also, non-profit organizations that sell their donations, are not required to charge tax.
Warranty:
Piano is being sold in "as is" condition.
Additional Photos:
Contact Us