1979 Yamaha 6' Grand Piano. High Gloss Ebony. In close to New Condition. $11,500 US Dollars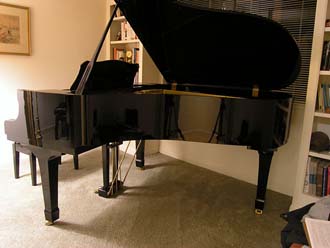 Piano's Personal History:
1979 Yamaha G3E 6' Grand Piano. Gloss Ebony. Serial No. 2849528
This is a East SF Bay Area piano in beautiful condition. It sounds great and has strong bass, sings all the way up to the top note.
The current owner is selling it because she couldn't move it up the stairs to her livingroom. She has kept it downstairs in her bedroom for several years and really didn't want to part with it. She had to buy an upright for the livingroom upstairs and now needs the bedroom space for family.
Kendall Ross Bean, the technician who inspected this piano said that it is one of the best used Yamaha's he has seen, and he has seen alot.
Bench included in price
Expert Appraisal and Inspection Reports:
Market Summary for this Brand:
Yamaha is a well recognized piano brand played by top artists in concert halls, recording studios and homes around the world.
Market Evaluation for this Piano:
The Yamaha G3 model a well built piano with a respected reputation. The nearest new equivalent would be a new Yamaha C3 which retails between $26,000 to 43,000.
Moving Details:
Buyer pays shipping.  The cost may vary from $150 - $300 for a local move and $950 for a cross country move. The piano is currently in Walnut Creek, CA
Transaction Details:
Piano Finders handles escrow services for all brokerage pianos, free of charge. Buyer is required to sign a Piano Purchase Offer Contract and receive a signature from a Piano Finders representative before piano will be taken off the market.
Tax Issues:
There is no tax on this piano. This is because the CA State Board of Equalization has approved our brokerage contracts between buyer and seller as non-taxable and they have taught us how to determine which transactions are taxable and which are not. Also, non-profit organizations that sell their donations, are not required to charge tax.
Warranty:
Piano is being sold in "as is" condition.
Additional Photos:
Contact Us